Vista and Windows 7
Open Dental runs well on Windows Vista and Windows 7. If you have any troubles, the hints on this page can help.
Installing: Whenever you install the Setup.exe, you should Right click, Run as Administrator. You must do this even if you are logged in as the administrator.
Other issues
If a Bridge to an imaging program is not behaving well, first start Open Dental by right clicking, Run as Administrator. The administrator privileges will then be inherited by the bridge program. If this works, you can set Open Dental to always run as admin:
- Right click on the desktop shortcut, then select Properties.
- Click Advanced.
- Check the Run as administrator box then click OK.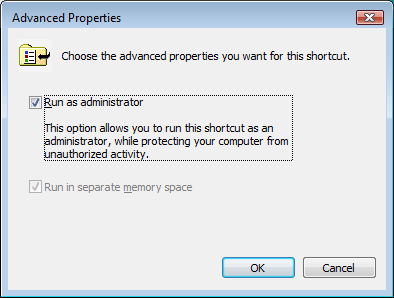 If using Vista as a server, sharing the A to Z folders can be more difficult. In addition to setting permission for the sharing, you must also set permissions for the folder itself. Go to Network setup and uncheck the option to "Require passwords for sharing". If you are part of a Windows Domain instead of a simple Workgroup, then you might need the assistance of a network professional to properly configure your security settings. The important thing is that Everyone have full control to read and write to the shared folder.


If the 3D tooth chart seems slow or buggy, update the graphics driver for your video card. See Graphics.


Not able to browse your network from your Vista computers?
See this Microsoft page for instructions on how to update all your Windows XP computers so they can be seen from your Vista computers http://www.microsoft.com/downloads/details.aspx?familyid=4f01a31d-ee46-481e-ba11-37f485fa34ea&displaylang=en.


If Vista is your server with the shared A-Z folder, and XP Home edition is a workstation, then you will not be able to browse to or use the shared A-Z folder from the XP Home edition computer unless the usernames AND passwords for the Windows logins are exactly the same on both computers. This is a limitation of XP Home edition only.


When you startup Open Dental, it searches for the A-Z folder. If Open Dental has trouble accessing the A-Z folder due to permission issues, it will present the Edit Paths window on startup. You would then probably be able to get through this window by browsing to the A-Z folder and entering your password. But you certainly don't want to have to do this every time you restart your computer. The usual way to avoid this problem in the first place is to relax your permissions on the A-Z folder, giving access to everyone. You could also disable UAC on both computers. Also, check the properties of the OpenDental.exe file. Make sure that the run as administrator box is unchecked. One user has created a batch file at startup that logs the computers to the central computer. We don't mention this as a useful solution for everyone. Most people would instead simply lower the permissions on the A-Z folder. But a few power users might find this information useful.