Integrated Texting - Sign up
To sign up for Integrated Texting in version 17.1 and greater, use the eServices Signup Portal. For all other versions, contact Open Dental.
Note: To sign up, the logged on user must have Full Access (Security Admin permission).


In the main menu, click eServices, Signup to open the eServices Signup Portal.

The Basic View tab is active by default when there is only one location.
The Advanced View is active by default when there are multiple locations.
Hover over 'Integrated Texting' to see informational details and read service terms.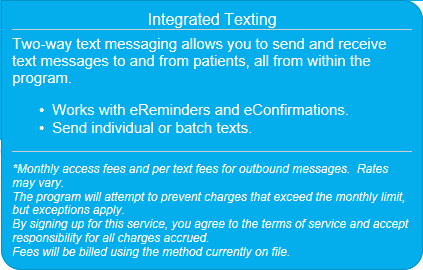 If using Clinics, and in Basic View, select the Clinic to enable integrated texting for.

Country Code: Click the dropdown and select the country the practice is in. Per message fees vary by country.




Texting Monthly Limit: Enter the maximum amount that all clinics can spend on outgoing text messages per month (in U.S. dollars, minimum $1.00).

NOTE: This is a per-clinic limit that applies to every clinic. Example: If $20 is the monthly limit and there are three clinics, each clinic has a limit of $20, but the total amount will equal $60.




Check the box next to Integrated Texting to enable the service. If in Advanced View, check the box for each clinic you want to enable it for.



The Total amounts will update to reflect the new charges.
Click Save to save settings.
Note: If you receive a message that a number cannot be issued, contact Open Dental for assistance.
Unsubscribe from Texting
To unsubscribe and disable the service, uncheck the Integrated Texting box in the Sign up Portal and click Save. The checkbox status will change to 'pending stop' (a square) indicating the eService will be stopped after the next bill date. Click the Info box in the upper right to see the Next Bill Date.