Set Up Integrated Texting
To set up Integrated Texting:
Update to the latest stable version.
Set up the eConnector (shared by all eServices and only needs to be done once).
Subscribe to the service and set monthly limits. For monthly and per text fees, see Fees for Software Support and Services.
Subscribe to the Service
To subscribe to the integrated texting service you must accept service terms and set a monthly limit. If using Clinics, this must be done for each clinic that will subscribe to the service.

In the main menu, click eServices, Texting.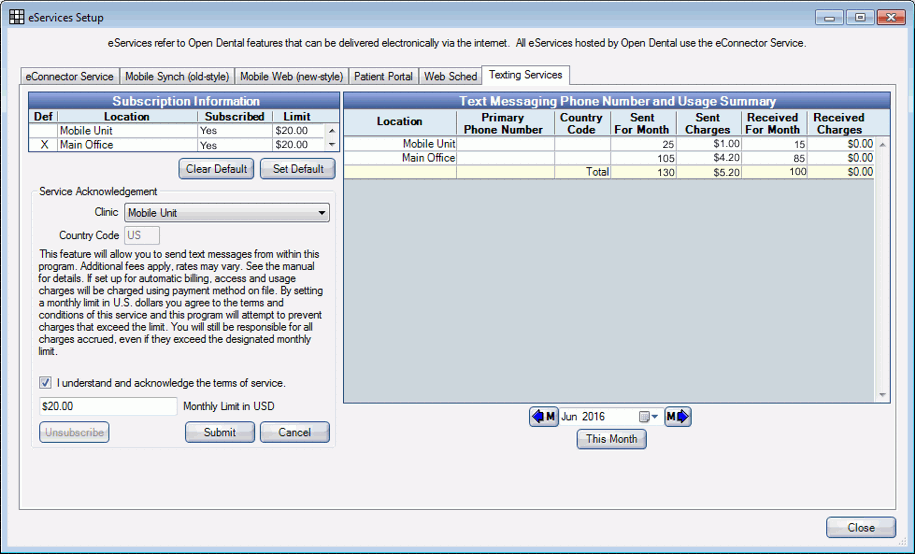 Current subscription information shows in the upper left.
If using clinics, click the Clinic dropdown and select the clinic to subscribe to the service.
For Monthly Limit, enter the maximum amount that the location can spend on outgoing text messages per month (in U.S. dollars, minimum $1.00).
Read the Service Acknowledgement, and if you agree, check "I understand and acknowledge the terms of service".
Click Submit to subscribe to Integrated Texting.
The location's new texting number will list under Primary Phone Number on the right. The number provided is based only on the office's country so obtaining a number with your area code is not guaranteed. It is not possible to select a phone number from a list or alter this number. If you send more than 250 messages per day, a secondary phone number will be assigned for outgoing messages to prevent the location from being marked as a spam sender by wireless carriers. You will not be charged for this additional number.
Notes:
It may take several attempts to receive a new texting number. If you receive a message that a number cannot be issued and to contact Open Dental, you may try again on your own or contact us for assistance. If there is a delay issuing a number, our support staff can monitor status for you and notify you when available.
If a location reaches the monthly limit, they will not be able to send text messages until the next month or until the monthly limit is increased.
Set a Default Clinic
When using clinics, in order to receive a text message patients must be assigned a clinic or there must be a default integrated texting clinic. When a patient isn't assigned a clinic, the default clinic set here is used.
Under Subscription Information, highlight the clinic to set as the default.
Click Set Default. X will show in the Def column.
Note: To remove a default, click Clear Default, or simply selected a different clinic default.
Under Subscription Information, highlight the location.
Enter a new monthly limit.
Read the Service Acknowledgment and if you agree, check "I understand and acknowledge the terms of service".
Click Submit.
Note: A location must currently beon support to change the monthly limit.
Usage Summary
The Text Messaging Phone Number and Usage Summary area is useful for finding the primary phone number, managing use, and viewing historical information by location, by month. By default usage information for the current month shows. Use the arrows or calendar below the grid to change the month.
Click the left or right arrows to move forward/back one month.
Click the calendar dropdown to select a month using a calendar.
Warning: If you are subscribed to integrated texting, but the eConnector is down or is not set up, text messages can still be sent but there is no way to track monthly limits or overrages. Also, customer replies will not be recorded.
Unsubscribe / Cancel Integrated Texting
To cancel Integrated Texting you must unsubscribe from it.
Under Subscription Information, highlight the location to unsubscribe.
Click Unsubscribe.
Note: Cancelling support will not automatically cancel integrated texting; you will continue to be billed until you unsubscribe.