Integrated Texting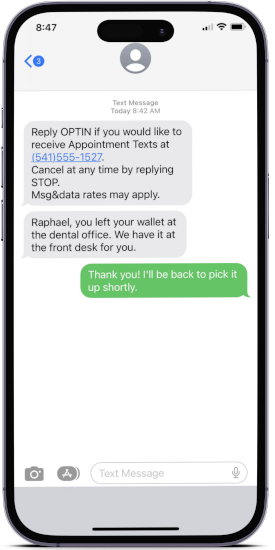 Integrated Texting is an eService that allows you to send and receive text messages in Open Dental. There is a monthly access fee and per text fees for outbound messages only. The service allows unlimited inbound text messages.
You must be on support with an active registration key to enable integrated texting.
United States, Canada, Puerto Rico: See Fees for Software, Support, and Services.
Australia, Great Britain, Ireland, Romania: Contact support to sign up. See below for pricing.
Notes:
Text messages are not secure and should not be used to send PHI. See Encryption of Data in Transit.
Sending text messages too quickly (e.g. more than one every second) may cause Open Dental to exceed the monthly texting limit before a popup can appear. Open Dental is not responsible for any fees an office or clinic may accrue in this manner.
Integrated Texting Fees for International Users (outside the U.S. and Canada)
For international users there is a monthly access fee plus a per outbound message fee. If a message is over 160 characters, each additional 160 characters is also charged a fee.


| | | | |
| --- | --- | --- | --- |
| Country | Access fee per month (USD) | Fee per outgoing message (USD) | Fee per additional message segment |
| Australia | $8 | $0.09 | $0.06 |
| Great Britain | $5 | $0.07 | $0.04 |
| Ireland | $10 | $0.08 | $0.05 |
| Romania | $10 | $0.11 | $0.08 |