eServices Signup Portal - Help
The eServices Signup Portal lets you quickly sign up for eServices and change eService preferences.
Note: To make changes in the Signup Portal, the logged on user must have Full Access permission level (Security Admin permission). Users without this permission have read-only access.
Sign up for eServices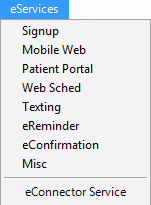 In the main menu, click eServices, Signup to open the Sign Up Portal.
Select the Sign Up tab, then Basic View or Advanced View.
If Basic view and there are multiple clinics, select the clinic first.
Hover the mouse over a service to view terms and description. The hover will also show the Hosted URL when applicable.

Check the box next to each option you want to sign up for. As you check boxes, the Total $ amounts will automatically update to reflect fees.
Click OK to save.
Notes:
Fees always reflect charges for all enabled eServices, per clinic/location.
Patient Portal and Web Forms are free for those on support. Thus in the Signup Portal these options are always checked.
Other Options
More Settings: Select the features that will be available in the Patient Portal. See Patient Portal Setup.
About: Used by technical support for troubleshooting.
Contact Us: Open the Contact page on www.opendental.com.
If you elect to stop a eService (uncheck an active service), it will be flagged to stop after the next billing date.