Payment Window
Use the Payment window to Enter Patient Payments, Enter Refunds, Transfer Income to Providers, or enter Prepayments. Below is a description of the fields and areas on the window.
To open the window:
In the Account module, click Payment.
In the Account module, double click an existing payment.
If you have selected 'Show provider income transfer window after entering insurance payment' in Account Module Preferences, this window opens automatically after you enter an insurance payment so you can fine tune income allocations to providers (useful if you track income by provider).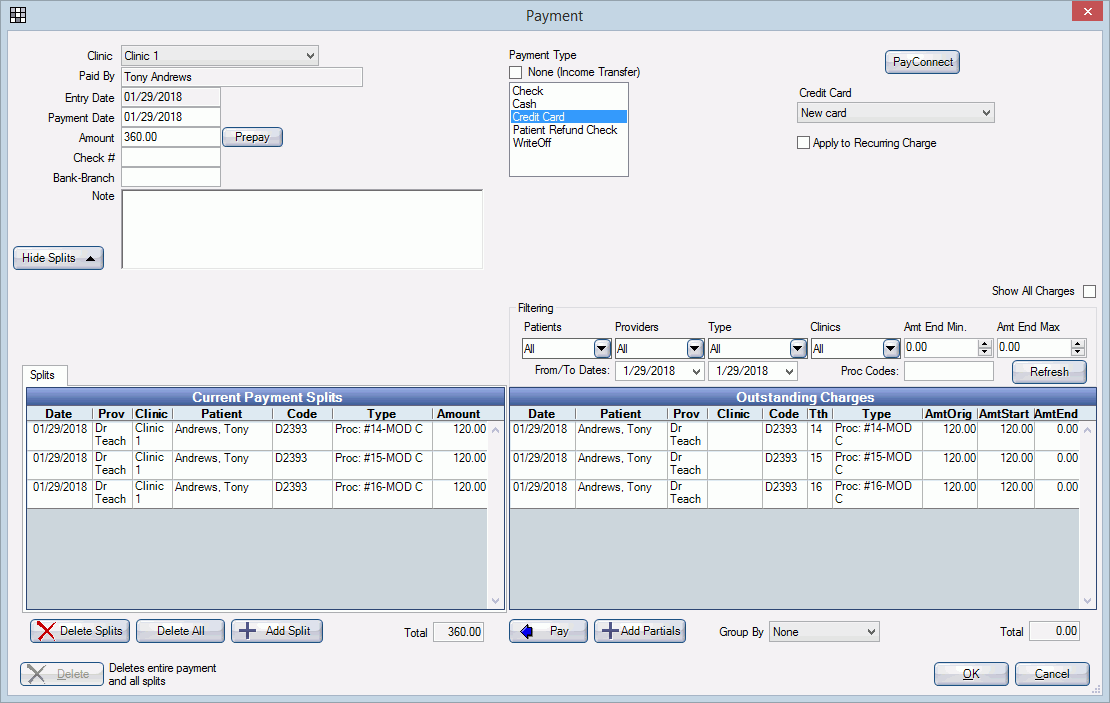 Clinic: When using Clinics, the default clinic is determined by the setting in Account Module Preferences for 'Payments Use Patient Clinic'. Click the dropdown to select a different clinic.
Payment Date: The date that the payment is received. It will be used on the Deposit Slip.
Amount: The payment amount. If using the Pay Split Manager, enter an amount here to generate Open Dental pay split recommendations.
Prepay: Mark a payment amount as a 'prepayment'. First enter the amount and other payment information and charge the card if needed. Click Prepay at the end of the process. See Prepayments.
Check #: Optional, but recommended. By check number is a good way to find a lost check in a report.
Bank-Branch: Optional.
Note: Appears in the Patient's Account as the payment Description. It will only show on Statements if 'Show notes for payments' is checked in Manage Module Preferences. When a payment is processed using X-Charge or PayConnect, a note is added automatically about the transaction.
Payment Type (required): The type of payment. Selection options can be customized in Definitions, Payment Types. Set whether or not there is a default selection in Account Module Preferences, 'Payments prompt for Payment Type'. If you select None (Income Transfer), the Pay button changes to Transfer. See Income Transfers.
Pay Into Account: If using Accounting, and you have Auto Payment Entries for the selected Payment Type, select the asset account the payment will be credited to. See Accounting Setup.
X-Charge/PayConnect: Process a credit card with with X-Charge or PayConnect. The bridge must be enabled for the button to be visible. When using Clinics, the clinic of the payment will be used to process the charge.
Apply to Recurring Charge: Check this box to apply the payment to the next Recurring Charge that is due.
Attached to Payment Plan: Only shows in version 16.4 and earlier. Check this box to apply this payment to a Payment Plan. In version 17.1 and greater, this box is replaced with a indicator of how many splits within a saved payment are attached to payment plans.
Payment Splits: This grid lists the pay splits that associate specific providers, procedures, clinics, providers, adjustments, payment plans, etc., to the payment. The grid is divided into two tabs:
Splits: The pay splits attached to this payment (see Splits tab below).

Allocated: For Prepayments only. View when and how much of the original prepayment has been allocated. This is informational only and rows cannot be edited from here.
Splits tab: To edit a pay split, double click it. To create splits there are a few options:
Split Manager: Use the Pay Split Manager to create splits. If a payment amount is entered, Open Dental will automatically recommend pay splits based on payment amount and outstanding charges and attach splits to procedures, adjustments, or payment plan charges due. If payment amount is blank, you can manually attach splits to outstanding charges. You can accept, modify, delete, or add partial splits.
Add Split: Manually add a Pay Split.
Family Balances, Pay: Create pay splits for selected family balance line items.
The pay split date will always match the procedure date if a procedure is attached.
The Total Splits amount must match the total payment Amount.

Family Balances: A list of family members who have a balance owed to a provider. As payments are made, balances adjust.
Group balances by provider instead of clinic, provider: If using Clinics, check this box to group payments in the Family Balance grid by provider, regardless of work done at different locations
Pay: This button changes to Transfer when the payment type is None (Income Transfer). Click to create pay splits for selected items. See Payment Splits above.
The Pay/Transfer buttons are hidden if, in Account Module Preferences, 'Payments prompt for auto split' is set to Forced.

Print Receipt: Reprint X-Charge or PayConnect receipts. For X-Charge, only receipts generated when using version 15.4 or greater can be reprinted. This button only shows if a receipt already exists for the transaction.
Email Receipt: Generate a PDF copy of a PayConnect receipt and Email it to the patient. A copy of the receipt is saved in the patient's Images module.
Frequently Asked Questions
Q: Why does my guarantor have a large credit and other patients in the family have a balance owed.
A: This means that excess income has been allocated to the guarantor (and probably a provider).