Mobile Web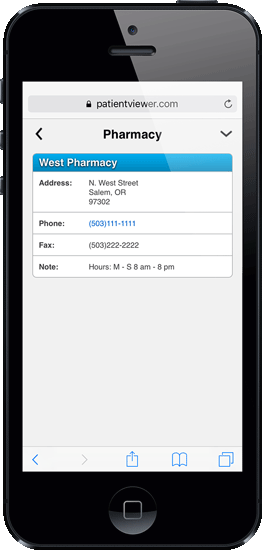 Mobile Web, powered by PatientViewer, is a read-only eService that allows you to connect to your Open Dental database using a supported internet browser. The data remains on your server and is provided real-time with no syncing required. Its design is intended for use on mobile devices. It is a paid service and you must be on support and have an active registration key.
View your appointment schedule and appointment details.
Call or email patients from the app by pressing the phone number or email address.
Searchable list of all patients.
Access patient details including contact information, appointments, allergies, and prescriptions.
Alphabetical list of pharmacies with contact information.
Signup and Setup: See Mobile Web: Sign up and Set up.
Signup: In version 17.1 and greater, use the eServices Signup Portal. For all other versions, contact Open Dental. Fees for Software, Support, and Services
Setup: Set up security users and verify that security settings meet requirements.



Resources
For a list of supported browsers, see Computer Requirements. Below is a list of browsers and devices not currently supported for Mobile Web:
Firefox desktop and mobile browser
IE desktop browser (all versions before Edge)
Windows phones