Future Versions
See the Previous Versions page if you are interested in previous versions.
This page is very outdated. We now use the Feature Request voting system instead. A new version of OD is released approximately every month or two.
Version 5.8 info available here.
Version 5.9 info available here.
Version 6.0 info available here.
Planned Features
Web Version: Web Version uses Microsoft Silverlight. It has rock solid log on / log off, main window with same 7 module buttons, and patient select window. Viewers for these modules: Appointment, Family, Account, and Chart. It is already functional, but we are still working on licensing issues which are beyond our control. So the release date is unknown.
Sheets Framework: Expand to include lab slips, postcards, registration forms, medical histories, consent forms, statement headers, routing slips, letters, etc.
Tesia Clearinghouse: Built-in support for real-time claims. This will also get us closer to being able to handle attachments, eob's, and eligibility.
Alternate splash screen for resellers.
Electronic Rx
Overhaul aging algorithms to optimize for speed.
Family popups. Right now, popups are per-patient.
Tasks: An option to show large tasks without wrap so that more tasks can be seen.
Change the way program starts up so that it will be less likely to require Admin privileges.
Send Claims window, view sent claims, and jump to accounts of sent claims.
Encrypt SSN, subscriberID, and CC info in database.
Canadian E-claims: Chip away at this complex problem. Make improvements with each new version of OD. But due to Canadian rules, the improvements won't be available to users until we are 100% complete, and there is no timeframe for completion. See Canada.
Treatment Plans: Support for multiple current TP's. Indicator for declined and accepted TP's. Procedures of declined TP should be hidden from easy selection by users without having to delete procedures.
Chart module: Visual indicator of which provider wrote which notes. Either one of many providers, or dentist vs hygienist.
Conditions: Ability to chart conditions independently from treatment.
Mounts: Digital radiography, let users set up their own mounts. Currently, the only allowed mount is 4BW.
Electronic Eligibility (270/271) and Benefits: Instant information from carriers regarding the eligibility and benefits for patients.
Insurance plans: Allow adding plans that are not attached to any patient.
Aging report needs a PatNum column and a billing type column? Report should be landscape orientation.
Production and Income Overview: A single page that shows the current month P&I detail as well as a graph of production for last 12 months.
Show insurance carrier in appt edit window and in apt bubble.
Add Clinic filter to P&I report.
Fix mailmerge to OpenOffice.org.
Appointment printount improvement instead of it using the screenshot.
Veneer graphic.
Print task lists.
3D Perio Chart: Entry would still be done on the current perio chart, but you could switch to a graphical display for patient education purposes.
Offsite Billing: Outsource your statement printing and mailing. A data file will get uploaded to the billing service. We will probably use ExpressBill.
Appointment module Note: Instead of using a dummy patient, you will be able to put an actual note on the schedule which is not attached to any patient at all. You will be able to pick the color.
Backup Enhancements: Complete overhaul (again). Timed backups, multiple jobs, etc.
Add letter merge fields: Insurance, Subscriber ID, and next appointment, referral salutation, referral preferred.
Ability to lock perio charts.
Security on deposit slips.
Popup when selecting a non-patient in the Chart module. Warn user.
Timecards: Change database to treat all clock events in pairs. This will make editing mistakes simpler, and will allow queries to be run for totals.
Allow changing order of employees.
Support for Avery 5389 postcards (2 per sheet)
Payment Splits: Payments can already be split by patient, provider, procedure, etc. The improvement will be to further automate the splits between providers for each patient.
Add a procedure status of "refused" or "declined"
Automatic logoff of a user after a given amount of time.
Option to not show some $0 fee completed procedures in Account.
Add an autocode condition for "contains incisal".
Image capture should be fixed to work with video cameras, not just scanners.
More date fields on appointment, like DateScheduled
Statements have an override for the due date to show Past Due in some situations.
Sales tax calculation.
Images tree view option to open minimized.
Image capture from Family module for patient picture.
Batch Claim Payment: One user-friendly window for entering insurance checks instead of jumping between accounts. There are disadvantages to this system, however, because then each account does not get reviewed properly. Automation will have to be added to prevent users from neglecting accounts.
Transfers: Ability to group multiple adjustments into a single transfer object.
Print Handouts: Triggered by completing procedure codes.
Insurance writeoffs: Possible improvements would cause writeoffs to be counted immediately upon completion of the procedures. The writeoffs would also affect the running patient balance. Writeoffs would then need to be locked. When insurance was received, the writeoffs could not be edited. Instead, an adjusting entry could be made if the initial writeoffs were wrong. The advantage of doing this is that it leaves historical information intact while still allowing immediate inclusion of the writeoffs in the production numbers. One additional complication is that we would need to verify that an invalid claim could be zeroed out or deleted while leaving historical writeoffs in place. We might migrate writeoffs over to the adjustment table to assist with these objectives.

Sticky commlog notes that stay at the top of the commlog list. This will allow elimination of the Family Financial Notes at the right of the Account module,
Bridge to smilereminder.com
More options for auto chart numbering.
Set procedures for planned appointment directly from Progress Notes rather than from within the planned appointment.
Dropdown list of bank-branch in payment window.
Update fees for procedures that are already completed rather than just for procedures in the TP module.
Note field for perio exams.
Shortcut Keys: Allow using keystrokes to access modules as well as the select patient button.
Rich Text in Progress Notes: Would include colors, fonts, alignment, and web links.
Images: Support for transparency scanning.
HL-7 Support: This is the protocol used by medical software. This will allow communication with other medical software.
Accounts receivable by provider report
Add date scheduled to recall table
Rewrite appointment module drawing logic to be faster and use less memory.
Password protect the P&I report to prevent dentists from seeing each other's income on a shared database.
Graphical Chart: Include a date range slider below the graphical tooth chart to quickly see history of treatment.
Warn user if strange characters in last name.
Make patient responsible for claims not received after a certain number of days.
Add merge button in Ins Plans window.
Add discount field to procedure. Can display discount in treatment plan. Does not affect balance.
An image can be placed on a letter.
Note for credit card section on statements for what types of credit cards accepted.
Automatically toggle to primary teeth for new children
Allow changing the title of a statement to anything the user wants.
Ctrl-F shortcut to Find Patient
Pocket PC version: The Mobile version will be simple at first, probably just an appointment viewer.
Appointment Fee: Financial information in the appointment edit window enhanced to show insurance portion, expected patient portion, and total patient portion due, taking into account deductibles, etc.
Perio Chart: Voice activation (already possible using third party software). 3D tooth graphics. Line drawing in color of measurements.
Auto Dialer: Let your computer do the dialing when making confirmation phone calls.
If insurance fee is zero for a procedure, the provider fee will be used instead.
Add color to Billing Types
Credit card terminal enhanced to support debit cards and check verification.
Claim procedures ordered by procedure code on claim.
Allow percentages set up ahead of time for adjustment types.
Important notes flicker and pulse so that they will be easier to see.
Procedure Entry: Add an auto complete feature if typing in procedure code.
Appointments module: Horizontal scrolling. Ability to "grab and drag" the entire appointment screen instead of using scrollbars.
Appointment lengths in 5 minute increments in addition to 10 and 15 minute increments.
MySQL password management: Security feature to make changing the mysql password easier. It is already possible, just difficult.
Bridge to Care Credit
Export Patient: Export to XML or some other format. Might include patient info, insurance info, chart notes.
Have images also show as items in Progress Notes in Chart module.
Add color to the statement printout.
Claims: track resent dates.
Colors, fonts, and hyperlinks in various textboxes.
Ability to annotate and draw on scanned documents. Notes would show up superimposed on the scanned image. Could be hidden if desired.
Tablet PC support for ink and voice.
Improved image management including merge to letters.
Voice activation for perio, chart notes, PARQ, etc. Will eventually become a full featured sound documentation system for all appointments and phone calls.
Staff 2-way intercom with voice name recognition, like the com panels in Star Trek (don't laugh).
Built in configurable timer for timing anesthetic, impressions, gingival retraction, relines, etc.
Integration with dental labs, including a version of Open Dental that labs can use. Print lab slips automatically.
A card reader for National Health or ID cards when the cards eventually become available. The cards would store all health history, allergies, dental history, etc. The pertinent info would be loaded into Open Dental.
Insurance benefit verification to consolidate data from multiple clearinghouses, since each clearinghouse works with specific carriers. Eventual electronic EOBs and automatic entry into the patient account.
Biometric thumb print reader for better security instead of having to use passwords.
Format phone numbers for foreign countries.
Horizontal color striping of appointments according to provider. Colors striping could also show in other operatory columns as simple color blocks, or as appointments with a different appearance. Also an unlimited number of providers per appointment, each with their own time block, and reduce the time increment to 1 minute. This would replace the current time pattern mechanism of /'s and X's.
Fields to override various graphical display characteristics of procedures. For instance, ability to customize connector bars for bridges, or add custom paint pattern on tooth for filling. Add cervical surface as an adjunct to an existing surface.
Triggers and macros. An event in Open Dental would trigger a programmable response including follow up email, printout, chart entry, message box popup, or output to another program.
Ability to split a screen into sections and customize each section. For instance split horizontal, or vertical, or quad. This will become increasingly important as screens get larger. Could be tied in to the planned multiple monitor features.
Patient education features.
Warn if a duplicate procedure is entered for the same tooth and surfaces.
Location Tracking Features
This is a very exciting area which will take many decades to fully mature, but first generation locators are already being used in hospitals and supply chains.
Automated Inventory management and ordering of supplies, probably involving Radio Frequency ID tags. RFID tags are like the tags used by stores that sound an alarm if they are not disabled. They are estimated to replace barcodes in five to ten years for some retail segments. Using RFID, you can instantaneously take an inventory of an entire cabinet. See articles at http://www.rfidjournal.com/article/articleview/1100/1/2/ and http://www.rfidjournal.com/article/articleview/1113/1/2/.
RFID automation for hands free employee log in/out, patient tracking, room occupancy, breaks, time clock, etc. This can be implemented slightly before RFID inventory control. Other options might be bluetooth or possibly wide band transceivers which consume less power. The important feature is that each employee have a badge that the computers can recognize and can use to pinpoint the location of that employee in the office. The first version may not be entirely passive and may require the employee to pass the badge near a reader.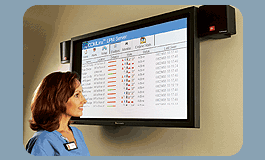 Multiple video camera integration to enhance the RFID badges worn by employees. The cameras would be positioned throughout the office and once they are smart enough to recognize faces, the badges would become less important.
The eventual goal is to have every single object in the office tagged in some way and have the computer systems always know the exact location of every person and object, quantities on hand, automated reordering, etc. All movement would be accessible from a live virtual map of the office which would become more intricate and complete as computers become more powerful.