Setting up EPCS (E-Prescribing of Controlled Substances)
E-prescribing of controlled substances (EPCS) is available using Electronic Rx (eRx). To prevent abuse, the Drug Enforcement Agency (DEA) requires a complex process to register and prescribe scheduled drugs. There may also be additional steps required by a provider's state
Sign up: Contact support. The provider must be present during the call.
General Setup Steps

Enable eRx and complete Identity Proofing (IDP). If you have not already so, see Enable eRx / Identity Proofing first.
Obtain an EPCS License for each provider who will prescribe controlled substances.
Enter identity proofing credentials.
We recommend updating to the current stable version.
Obtain an EPCS License for Each Provider
All providers who want to prescribe controlled substances must obtain an EPCS license.
Make sure the provider is logged on to Open Dental (in Open Dental Security, the user must be associated to a provider).
In the Chart module, click eRx to open the eRx interface. Then click the Admin tab.
Click Prescriber Registration and EPCS Set-up.

Click Sign Up for EPCS Services.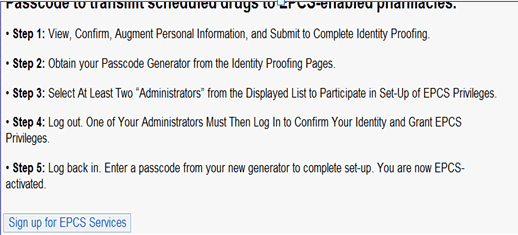 Check the box next to the provider(s) to register for EPCS Subscriber Licenses, then click Calculate.
If the Total Cost is accurate, click Purchase.
Click Transfer to PayPal Portal to complete your payment in PayPal.
If you have a PayPal account, click Have a PayPal Account, then login. If not, you can pay as a guest by entering credit card and billing information.
After a successful transaction, you will receive a confirmation email from PayPal.
If you do not want to pay via credit card online, PayPal offers 'Bill Me Later' to pay by check.
Click Print Receipt to print a receipt.

To proceed with EPCS setup, click the tab in your browser to return to eRx.
Click 'Click here' at the bottom of the screen to return to EPCS registration screens.
If you experience an error, copy/paste the link at the bottom of the page into a different browser window.