Open Dental EHR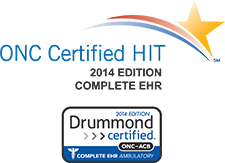 Open Dental EHR is a complete 2014 edition certified software used by eligible providers in the EHR Incentive Program. It meets all mandatory requirements for a 'qualified' EHR and has been tested and certified by a federally approved certification body. For more details, see What is the EHR Incentive Program?
Note: 2016 was the last year to start participation in the EHR Medicaid Incentive Program.
How Do I Get Started?

Fill out the Medicaid EHR Purchase Form 2017 (PDF) and submit it to Open Dental.
A support technician will contact you and provide a dated one-year EHR contract that must be signed and returned. This contract is proof that you are using a certified EHR product. It must be renewed annually.
Once the contract is approved and signed by all parties, we will issue EHR provider keys.
Open Dental EHR Fees: 12 months of support fees starting on contract date, PLUS a calendar year fee of $720 per provider for EHR functionality and reporting.
Also see Cost and Limitations below.
Notes
Avoid mistakes that could cost you money: See EHR Attestation.
Just purchasing a version of Open Dental is not sufficient. You must enter into a written contract with Open Dental.
Certification for EHR is a vendor/product combination, not just a product. CMS dictates that any contract for an EHR purchase must be directly with the vendor. Thus, EHR-certified versions of Open Dental can only be purchased directly from Open Dental. You cannot purchase an EHR-certified version of Open Dental from a reseller.
Open Dental versions 14.2, 14.3, 15.1, 15.2, 15.3, 15.4, 16.1, 16.2, 16.3, and 16.4 are 2014 edition EHR certified. Versions are not certified immediately, so be careful when you update.
For common questions and answers, see EHR FAQ.
Webinar: An Introduction to EHR for Open Dental Users
What's Next?
Once you have a signed and dated contract for the current year, see EHR Modified Stage 2 for more information about 2017 objectives and benchmarks.
Other resources to help you:
Free Webinars.
Customized online Training. Contact us to schedule.
If you are new to Open Dental, we recommend learning and using the program for dental charting before starting a reporting period. It may take 1 - 2 months to get familiar and up to speed. See Welcome to Open Dental for general Open Dental information.
EHR Consulting: When applying for incentive payments, someone on your staff needs to take the lead. That person may need additional help figuring out your state requirements. You may consider hiring an EHR Consultant. Open Dental technicians are not general EHR Incentive Program experts. We are experts on how to use Open Dental to enter required information and produce reports. If you need advanced help from Open Dental, we will give it our best effort, but we must charge a fee and still cannot own your EHR process. The EHR consulting fee is $100/hr so we can keep our staff available for software support. Examples of EHR consulting include:
You want someone from Open Dental on the phone with you when entering report data into government web sites (attestation).
You want someone from Open Dental working with your EHR contracted consultant for more than 2 questions per call.
You need help integrating meaningful use requirements into your workflow process. (We may be able to help, but you need to own this internally.)
You need involved help with specific exclusions or other EHR issues not related to Open Dental Software.
Frequently Asked Questions
Q: I need to start my first EHR meaningful use reporting period. What do I need to do?
A: See Before You Begin a Reporting Period.
Q: I am ready to attest and receive my incentive payment. What do I need to do?
A: See EHR Attestation.
Q: I am being audited. What do I need to do?
A: See EHR Audits for guidance.


---
Cost and Limitations
Certified Product Information
Developer: Open Dental Software
Product Name and versions: 16.4, 16.3, 16.2, 16.1, 15.4, 15.3, 15.2, 15.1, 14.3, 14.2

Modules tested: 170.314(a)(1-15), 170.314(b)(1-5, 7), 170.314(c)(1-3), 170.314(d)(1-8), 170.314(e)(1-3), 170.314(f)(1-3), 170.314(g)(2-4)
Clinical Quality Measures tested: 68v4, 69v3, 74v4, 75v3, 127v3,138v3,147v4, 155v3, 165v3
Additional Software used: NewCropRx (comprehensive version)
Additional Costs
There is a per provider calendar year fee for EHR functionality and reporting plus ongoing monthly support fees per location.
This certified product-version may require ongoing monthly fees per provider/location for e-prescribing (170.314.b.3), drug-drug and drug-allergy interaction checks (170.314.a.2), and drug formulary checks (170.314.a.10). There is also a one-time per provider fee for identity proofing.
This certified product version may require purchase of an email security certificate and email address to securely receive, email, or transmit summaries of care (170.314.b.1-2, b.4, e.1).
This certified product version may require obtaining an email address per provider to send secure messaging notifications (170.314.e.3).
This certified product version may require additional fees to establish interfaces for submitting data to immunization registries or public health agencies (170.314.f.1-3).
Contractual Obligations
Purchase of this certified product version requires signing a one year renewable contract and entering into a 12 month support agreement.
Disclosure of Technical or Practical Limitations
Direct messages can only be sent to other providers who also use Direct messaging (use a certified EHR software). Many dental providers may not use Direct. In these cases standard encrypted email can be used instead. This will require manually exchanging public key certificates with each provider.
ONC Disclaimer
This Complete EHR is 2014 Edition compliant and has been certified by an ONC-ACB in accordance with the applicable certification criteria adopted by the Secretary of Health and Human Services. This certification does not represent an endorsement by the U.S. Department of Health and Human Services.
Also see Cost and Limitations (PDF)