Bug Detail - Duplicate Claimprocs
This page is entirely devoted to a single bug that was discovered on 3/17/10.
Possible symptoms:
Individual account balances very negative.
Claim payments or deposit balances wrong.
Affected versions were:
6.8.40 - 6.8.43
6.9.23 - 6.9.26
7.0.4 - 7.0.8
The original bug has been fixed and poses no ongoing danger, but if you ever used any of the versions listed above, then you may have been affected. The scope of the problem is very minimal or non-existent for most offices, although a few offices might be affected more. Ortho offices are the most likely to be affected because of the duplicate supplemental insurance payments that will be present.
We already know exactly which customers attempted an update during the 7 day window. We will be making sure this tool gets run on each database that is suspected of having problems. If we suspect that your database is affected, we will be calling you and we will be running this tool for you as follows:
A. Update to at least 6.8.50, 6.9.33, or 7.0.17.
B. From the Main Menu, click Tools, DataBase Maintenance. At the lower left, click the new button called Temp Check.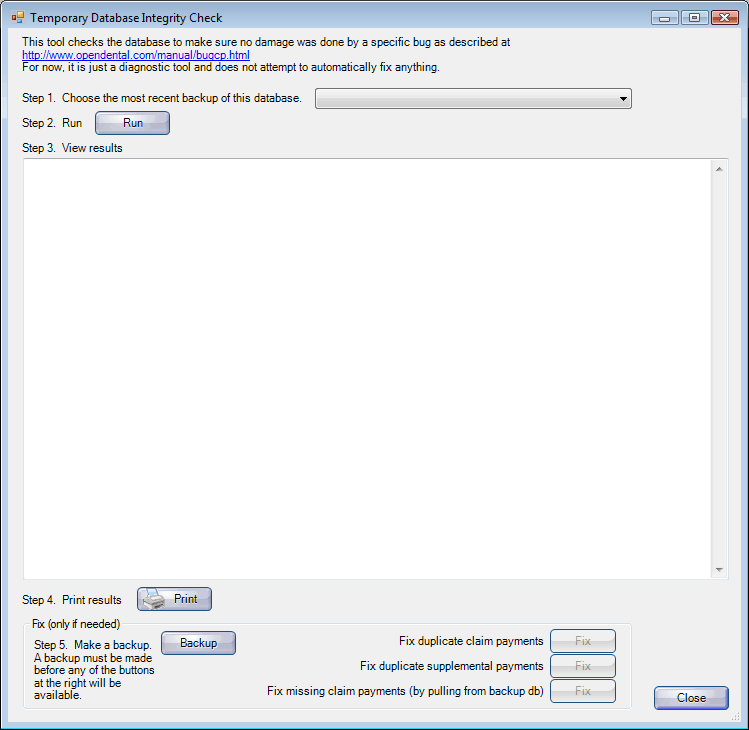 C. In Step 1, the database should be from before March 17, 2010. One portion of the tool will be making comparisons with that database to determine if there is any missing data. There is probably already a backup in the selection box that can be used. As long as it's within the last few months, it will work. Of course, the closer to March 17th, the better.
D. Click the Run button.
E. In almost all cases, there should be no need to run any Fix. Dr. Sparks would like to be personally involved in any Fix.
F. After any Fix, run the normal database maintenance tool and check recent deposit slip totals.
Significance of Results
Duplicate Claim Payments: These will nearly always be false positives. Results can be printed and the account of each patient opened to look for errors. A true duplicate can be recognized because within the claim, each row will be exactly duplicated. Not just some of the rows, but all of them. And typically for all claims for the patient. If the user does "fix" duplicates that were not true duplicates, the third fix button will replace them, and they will again show as possible duplicates.
Duplicate Supplemental Payments: These will also nearly always be false positives. In an ortho office, there may be numerous results. These can all be ignored unless there were also confirmed duplicate claim payments.
Missing Claim Payments: Should be 0. No fix should be necessary.
Missing Claim Checks: Might be a few false positives. If there were 0 missing claim payments, then these can be ignored.
History
(this information is technical and may not be useful for everyone).
This is probably the worst bug we have had in five years. The timeline of the problem is listed below.
3/15/10 Secondary PPO writeoffs had been estimating poorly for about a month. An enhancement was designed and released. The enhancement seemed harmless. All it was supposed to do was to set secondary writeoff estimates to zero. Because of the perceived low risk and the high annoyance factor of the poor estimates, it was decided to backport the enhancement to stable versions. It was released as 6.8.40, 6.9.23, and 7.0.4.
3/17/10-3/18/10 Two offices reported that a few patient accounts had severely wrong balances. It was observed that claims for these patients had many duplicate claimprocs. It was finally determined that the enhancement from two days prior was looping incorrectly and causing insertion of duplicates into the database. A fix for the original bug was released immediately as 6.8.41, 6.9.24, and 7.0.6. We emailed offices that might have been affected.
3/18/10 Removing the duplicate entries was treated as a separate problem. The Database Maintenance tool was enhanced to intelligently remove the duplicates.
3/19/10 The original addition to the Database Maintenance tool was conservative. Unfortunately, there were still some duplicates remaining after running it. So the database maintenance tool was revised slightly to include supplemental claim payments. We did not realize until days later what a bad decision that was. It was at this point that we emailed offices again and called those without email.
3/22/10 One office reported missing supplemental claim payments. In response, versions were released which once again excluded deletion of supplemental payments. It was then decided that it was too dangerous to delete any claimprocs at all and that it would be better for us to analyze databases individually from now on. The safer version was released as 6.8.44,6.9.27, and 7.0.9.
3/24/10 New diagnostic tool released.
3/30/10 The tool was enhanced for situations where the backup database was a different version than the live database.
3/31/10 It was discovered that the regular db maint tool will delete claimprocs immediately after running the temporary tool. Research has determined that those were claimprocs that were intentionally deleted by the staff over the last week. For example, deleting a duplicate claim, or deleting a preauth. Thus, not all the "missing" claimprocs that were added back by this tool were actually missing. The regular database maint tool is enforcing referential integrity.
4/4/10-4/6/10 It was discovered that the normal db maint tool had a bug that would set a few procedures completed in certain rare situations. One of those rare situations is slightly more likely on a database that has been fixed by fix #3 in the tool above. Fix was released.
4/6/10 Fix #3 also seems to be generating false positives. Even if it claims there are missing entries, there very well might not be. So refinement of this tool will continue.
4/7/10 The tool was enhanced to not show false positives for missing entries.
4/12/10 The tool has worked well for every one of the dozens of databases tested so far, finding no problems with any of them.