Using Auto Notes
Auto Notes are templates used to insert frequently entered, large notes (e.g. for hygiene, root canals, materials, anesthetic, post op instructions). In addition to static text, prompts can offer a selection of responses or the ability to enter text. To create or edit auto note templates, see Set up Auto Notes.
Auto notes can be added to a Default Procedure Note, a Procedure, the Ortho Chart, and Group Notes.


To insert an auto note, click Auto Note.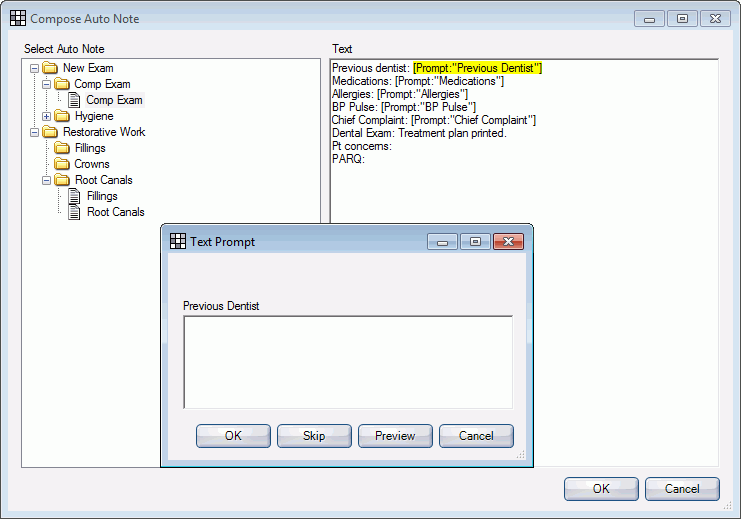 Click + to expand a folder tree. Auto notes have a paper icon.

Double click the auto note to insert. The text of the note will show on the right. Any prompts in the auto note will display in sequence.
For each prompt, select the response or enter text, then click OK. To skip a prompt, click Skip. Additional keyboard controls are available.
Press Tab to cycle through Select All, Select None, OK, Skip, Preview, and Cancel. In Preview and text prompts, press Ctrl + Tab.
Press Enter to advance for response or checkbox entries.
Double click a single-entry item to select it and advance.
Once all prompts have a response, the Compose Auto Note window will remain open with the full text of the note on the right.
Edit or add text as desired.
To insert another auto note, repeat steps 2 - 3.
Click OK.
If you prefer to use one note for an entire visit rather than a separate procedure note for each procedure, then you can use auto notes to make it easier. In addition to the normal procedures for the day, there will be a clinical note, which is just a procedure with a code that is not an ADA code. For example, Zclin. Leave the default notes blank, and just use auto notes to compose a single clinical note.