Automated Appointment Reminders
Version 16.2 and earlier. If using version 16.3 or greater, see eReminders instead.
Use Automated Appointment Reminders to automatically send email and SMS text message reminders to patients who have a scheduled upcoming appointment.
Reminders are sent to all patients with future scheduled appointments, regardless of confirmation status. Ensure that Email and Integrated Text Messaging are set up in order to send email and text message reminders.

To set up automated appointment reminders:

Enable the eConnector service. This is required for both email and integrated text messaging reminders.
Set run times for reminders (when they will be sent) and the days/hours prior.
Choose the order priority for reminder method (email, text, preferred).
Customize the reminder.
A commlog entry is automatically generated when automated reminders are sent. Set the default commlog type for text messages in Definitions, Commlog Types.
You can use automated appointment reminders along with Confirming Appointments to ensure that scheduled appointments are not forgotten by your patients. Confirmation status will not automatically change when using automated appointment reminders.
Set the Run Times for Reminders

In the Main Menu, click Setup, Appointments, Recall. Click Automation Settings.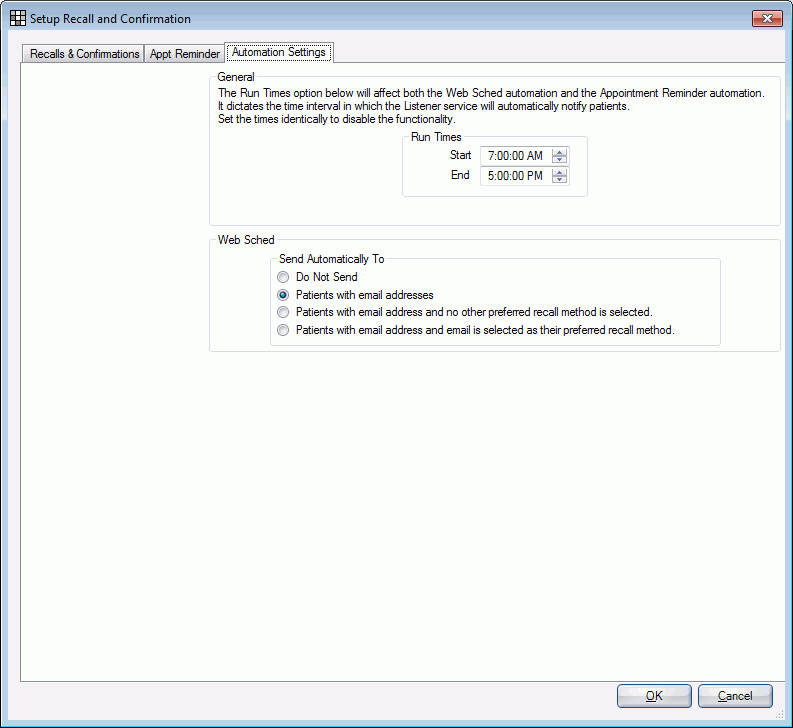 Enter a start and end time. Reminders will only be sent during this time period. For example, set start and end times to your office hours so that your patients are not receiving text messages in the middle of the night.

If a reminder would have been sent earlier than the start time, it will be sent at the end time of the previous night. For example, a reminder that is scheduled to send at 4:00 AM on Tuesday will instead be sent at 6:00 PM on Monday night.
To preview 24 hour run times, change your workstation clock to 24 HR.
The run time affects scheduled appointment reminders and Web Sched Automatic Recall Reminder emails.
Customize the Appointment Reminder
Set the time intervals for sent reminders and set the reminder method order. View a forecast of reminders that will be sent in the next seven days.
Click the Appt Reminder tab.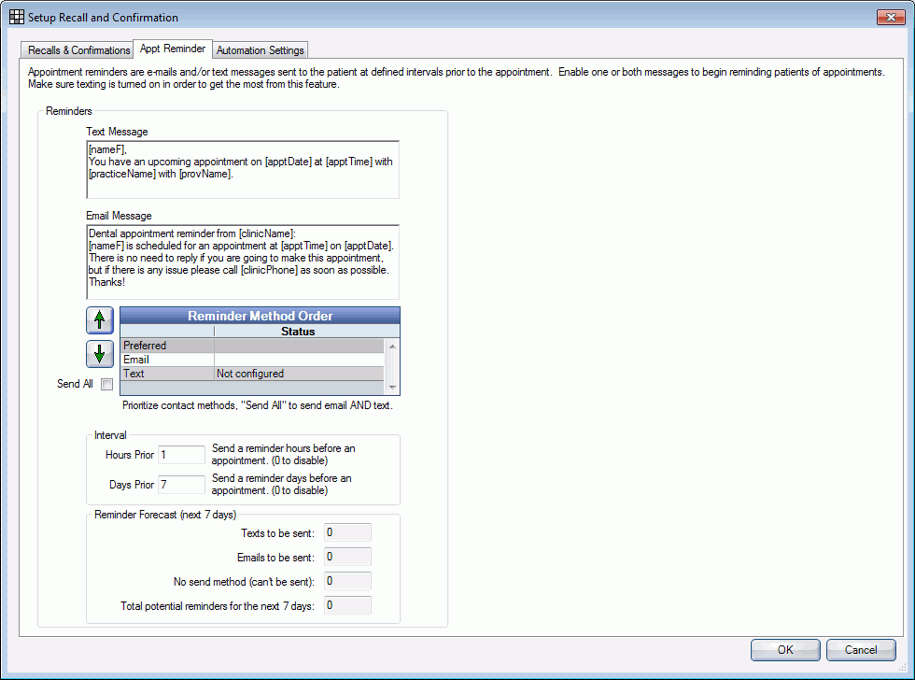 Reminders: View the messages that will be sent to your patients by text message, email, or both. Click in the field to edit the message. Note: Regular email and text messaging are not secure methods of sending PHI. See Encryption of Data in Transit.

Reminder Method Order: Set the order of message types that are sent. Reminders are sent in order from the top of the list down. Re-order reminder methods using the up/down arrows.

Status will show "not configured" and the line will be grey if email or text is not set up.
Check Send All to send text and email messages regardless of order.
Set Preferred as the first method order to send reminders based on the patient's preferred confirmation method set in Edit Patient Information

Interval: Enter the number of days and/or hours prior to an appointment a reminder should be sent.
Use decimals to customize days/hours prior. Each decimal point represents one-tenth of an hour or day. For example, days prior could be set to 1.5, which would send a reminder one day and twelve hours before the appointment.
You may choose to enter either days or hours, both, or neither.
Enter zero in these fields to disable the feature.
The reminder will be sent according to the interval if run times are set identically (Start 7:00:00 AM End 7:00:00 AM).
View the Reminder Forecast: This is the number of reminders that are estimated to be sent in the next seven days based on scheduled appointments. Reminders will be sent to the guarantor of a patient if that patient does not have valid contact information.
No send method (can't be sent): This number may increase when reminders can't be sent. If this happens, make sure the following settings are correct:

eConnector is enabled.
Practice and clinic have text messaging and email set up.
A wireless number is entered and the patient is set to accept text messages (see Edit Patient Information window, Text OK).
A valid email address is entered.

When a reminder cannot be sent due to a lack of send method, an error is logged. You can access this log to see which patients did not receive reminders. This can only be accessed on the computer with eConnector installed.
Navigate to the C: drive.
Open the Program Files(x86) folder, then OpenDental\OpenDentaleConnector\Logger\WebSchedNotifications or AppointmentComm.
These folders will only be available if an error was logged for Web Sched Recall or Appointment Reminders.